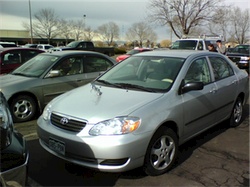 This unassuming base model Toyota Corolla seems as though it aspires to be something faster, something bigger, maybe something fancier in life…
Here's another fine photo to go in with my Geo Metro Rice Racer, Roof Scoop Rice Racer, and even Big Crime in Little Fort Collins Colorado.
Snapped by one of my buddies, this confused Corolla seems to think it might be a Mustang. Or something.
Look closely at the hood and notice the not-so-small hood ornament. I'm not sure if it's bolted-on or just glued, but I've got to admit it's a strange placement for a Mustang type ornament. I wonder perception this guy is trying to achieve — maybe it's funny like having a set of bullhorns on the hood. Then again, he might be serious and thinking it actually looks cool.
Whatever the case, this is more proof that even a smallish homogenized town like Fort Collins, CO has its share of weird automotive modders and nuts. Click below for a larger version.