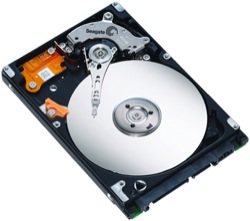 Contrary to the wonderful support I received from Logitech some time ago, the brand new Seagate 1TB FreeAgent drive I just bought exemplifies the worst in support.

Many of you have already heard about the issues with the Seagate 1TB hard drive firmware problems. Basically, if you are affected by the bug, you will not be able to access ANY data on the drive. It's a MAJOR problem that affects a HUGE number of Seagate users.
So, as one would expect, Seagate should provide reasonable support to fix a design defect in their own products, right?
Well, the common knowledge base article from Seagate mentions the bare drives that you would install directly in a computer. What they don't mention, however, is their extensive line of external drives and how they are affected.
I recently bought a 1TB FreeAgent Xtreme and can't find any information on the status of the firmware for the drive, so AS INSTRUCTED, I e-mailed them with my serial number, firmware version, etc. Here is my e-mail:
Hi,

I recently bought:

FreeAgent Xtreme 1TB ST310005FPA2E3-RK
Serial: [deleted]
Revision: 4115

The Drive Detect program does not tell me what model drive is inside the case.

Do I need to update the firmware for the recent issues?

Thanks,
Mike
I purposely made my e-mail clear and concise since I know they are inundated with e-mail regarding this support issue.
And, you're wondering, what was their reply? Their reply was COMPLETELY USELESS and indicates they did not even read the information I provided AT THEIR REQUEST!
from DiscSupport@seagate.com
reply-to donotreply@seagate.com
to
date Fri, Jan 23, 2009 at 7:18 PM
subject Seagate Firmware Update
mailed-by seagate.com

hide details 7:18 PM (1 hour ago)

Reply

Thank you for contacting Seagate Support.

A firmware issue has been identified that affects a small number of
Seagate Barracuda 7200.11 hard drive models which may result in data
becoming inaccessible after a power-off/on operation. The affected
products are Barracuda 7200.11, Barracuda ES.2 SATA, and DiamondMax 22.
Based on the low risk as determined by an analysis of actual field return
data, Seagate believes that the affected drives can be used as is.
However, as part of our commitment to customer satisfaction, Seagate is
offering a free firmware upgrade.

Please follow this link
(http://seagate.custkb.com/seagate/crm/selfservice/search.jsp?DocId=207931)
to enter the Knowledge Base article(s) detailing the steps to update your
drive.

In the unlikely event your drive is affected and you cannot access your
data, the data still resides on the drive and there is no data loss
associated with this issue. If your drive is no longer accessible, contact
us directly for further assistance at
http://www.seagate.com/www/en-us/about/contact_us/.

NOTE: If you have contacted Seagate Support regarding a separate issue or
about another product, please visit
http://www.seagate.com/www/en-us/about/contact_us/ to submit an email.
Thank you.

Seagate Support
Hmmm… OK, so they are providing me with the EXACT SAME information I was reading when I got the e-mail address to send a message to if my question is not addressed by the KB article.
Fail, Seagate, you fail. Your tech support is truly as bad as I've heard on every review site. Cross me off your customer list if you can't do better than this crap. I don't need to take the time to find and include my serial number/etc. in an e-mail as you requested only to have it completely ignored and receive a generic, complete garbage cut-and-paste response. No wonder your reputation is falling like a rock.
Oh, and let me say that I know a bit about "support" since I work in the field.
Anyway, that is my response to their "response" (and I barely give them that). If they won't even read my e-mail I took the time to send, I will make sure that everyone I possibly can communicate with knows this and not to expect any sort of real support when buying a Seagate product. All of the other reviews that you've read regarding Seagate's incredibly poor tech support – they're true and this is the proof.
Mike