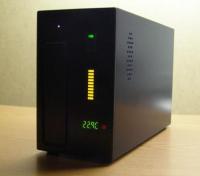 This beautifully crafted external hard drive enclosure features my hard-drive bargraph LED project in addition to a temperature display, fan controller, and custom metal-work.

Some time ago, I posted an article on a custom microcontroller LED bargraph I designed which would indicate the activity of your computers hard drive. It was a fairly popular article and generated some conversation both here and on other sites. However, one reader e-mailed me and told me that he was going to hack the circuit into an external SATA enclosure and recently, I've been able to see the results of his efforts and it turned-out awesome!
This reader goes by DING Custom Computers (we'll call him DING for now 😉 )and has been kind enough to send me photos and a video that I can share with you.
DING started with a basic SATAVault made by CoolDrives. Below, you can see the photos of the stock enclosure.
He fabricated the custom parts and panels in his shop which resulted in an extremely clean and professional appearance! I wish I had access to the tools to do this kind of work 😉
There is a hacked a power supply from a Mapower MAP-51c case to run the custom circuitry and the drive. The added circuity includes a temperature readout and fan speed controller in addition to the bargraph LED activity indicator. Here's a photo of the bargraph LED PIC-microcontroller circuit and also of the fully stuffed enclosure with everything mounted. There's boards and circuits in there yet it is done very neatly.
As some people noted in my original posting, I don't have schematics for the bargraph LED project, yet DING was was able to figure-out the connections from the fairly detailed photos, with only one question about a hidden connection. Nice work! I like that he added connectors for everything which makes the circuit easier to install and change if needed.
Here's the finished project with a video of the microcontroller bargraph LED circuit you can check out too. Very nice – thank you for sharing, DING! If anyone else has built my circuit or something based upon the idea, I'd love to hear from you!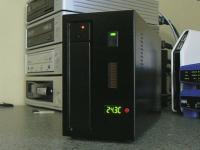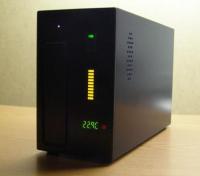 Video showing the custom enclosure with custom microcontroller circuits