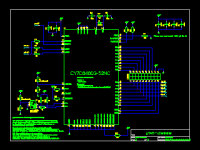 Using the gEDA tool suite, you can design your own schematics and circuit boards on any platform that support X Windows, including Mac OS X.

Yeah, yeah… I can hear all of the people who wrote to me asking for a schematic of my hard drive bargraph project saying, "hey, why don't you use this gEDA stuff and give me a schematic?!" Well, I will, for future circuits, and perhaps I may create a schematic for the bargraph, who knows.
Anyway, making your own boards is one of those potentially complicated things that uses software which can easily cost in the tens of thousands of dollars (think OrCAD). The gEDA (gnu Electronic Design Automation) suite is a set of open-source free tools that let you do similar things to the expensive commercial packages, if you're willing to learn a little.
The gEDA stuff is not new and I've fiddled with it on Linux, but I also found these instructions on how to install it using fink on OS X. With the increasing popularity of the Mac and its Unix based underpinnings, more and more people are "making the switch" and might want to know how to install gEDA on OS X.
Give it a try. I'm going to install it on my MacBook at some point and see how it works.