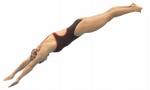 Through the wonders of e-mail, I found a bit of humor in Google Maps.

I think that most of you are already familiar with Google and their Google Maps product. Typically, you use Maps to lookup the location of stores or get driving directions. But what happens when you do something unexpected, like ask it to get you from New York to Paris?
Well, the Google engineers have you covered and the answer should give you a chuckle.
See my screenshot below, or follow these directions:
Go to maps.google.com
Select Get Directions
Enter New York, NY in the from box
Enter Paris, France in the to box
Look at step #24 😀