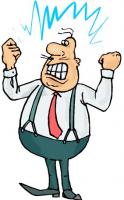 [Vent mode on]
For the past week, nearly every single one of my RSS feeds has been 'disabled' as far as I'm concerned. It doesn't matter if it was Engadget, Gizmodo, or electronics hacking sites, they were all worthless for the week and continue to be so today. Why?
Because all they are talking about is the frickin' iPhone!!!! Everywhere! Every nook and cranny – every website large or small… iPhone, iPhone, iPhone!
Stupid photos of people waiting in line to buy them — and not just in one place! People standing in line have been photographed from the largest stores in New York to armpit-ville Arizona.
There are disassembly photos (which were interesting the first time). There are SIM change articles. There are scratch test articles. And there are MORE photos of people standing in line and wearing T-shirts that say "iGot iPhone".
Enough already! I love gadgets and I do like Apple stuff and own several of their products, but come-on people. Do we really need 100% iPhone coverage on every site? It reminds me of when I'm trying to watch TV and the idiot presidential speeches are on and blocking everything I want to watch on every channel.
[Vent mode off]
OK, I'm going to try to calm-down… I'm sure I'm not the only one who's had enough, though!