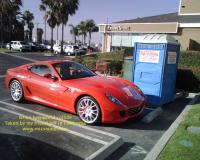 How often do you get to see a Ferrari parked next to a portable toilet?

My long-time friend in Laguna Beach, California was out this weekend with his wife and spotted this unusual combination: A Ferrari parked directly next to a Port-A-Potty.
I'm not a "Ferrari guy" but I'm guessing that's not a cheap base-model Ferrari. Perhaps the owner thought that any would-be car thieves would be discouraged from coming too close due to the smell. 😉
Click for full-sized image.