I had totally forgotten about these, but the second I saw it, it all came rushing back. I remember getting these scratch-off "video games" from places like McDonald's when I was a kid in the 80s.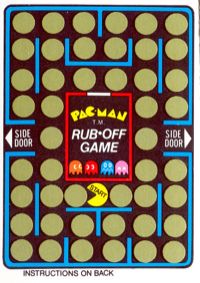 Nothing can demonstrate the extreme interest in video games during the "gold years" (1980s) like the spin-off toys, gadgets, and inventions that were created at the time. There were dozens of handheld battery-powered games, stuffed toys, action figures, comic books, and much, much more — all based on the hot games of the time such as Pac-Man, Donkey Kong, Centipede, and others.
Well, one of these spin-off "devices" that I had totally forgotten about was recalled when I viewed a Retro Thing post showing the old scratch-off Pac-Man games.
The games were small cards with patches of the gray waxy scratch-off stuff like you'd find on a lottery ticket. You were supposed to scratch them off, one at a time, to see if you won or lost. I could have sworn that I got them at McDonald's or something similar to that, but the scans of the cards shown in the post show they were in Fleer video game trading cards.
Anyway, I got a bit of joy remembering these old "retro tech" type games that we used in the 80s before everyone had Palm Pilots and before electronics were cheap enough to give-away free in food meals.