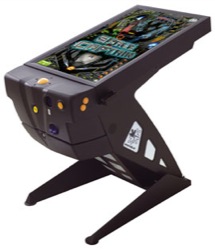 Here's another version of the virtual pinball machine, using a 42″ monitor instead of a normal playfield.
I wrote about a virtual pinball machine called the Ultrapin a while ago. Ultrapin was built to look like a normal pinball machine except the playfield has been replaced by a 42″ screen which displays virtual bumpers, ramps, and other pinball goodies. It's a neat idea, but by making it look like a regular pinball machine, you can't help but compare it to the Real Thing and therefore find many flaws and reasons why it's not as good.
An Austrian company called TAB is taking another stab at building a better digital pinball machine. This time, they have created a very unique, modern look for the cabinet that says "I'm not your normal pinball machine!" and I think that'll help get people to try it.
The TAB Virtual Pinball Machine features tilt sensors and vibration feedback, to help recreate an exciting pinball experience. It uses a 42″ plasma screen to display any one of six included games. Additional games can be downloaded to the game's internal hard drive, and you can link the machine for competitions thanks to built-in networking support.
I can't say that I've ever preferred playing a digital pinball game on the computer over a real pinball game, but something like this looks like it could be a fun addition to a collection of standard pinball machines. The ability to include weird strategy and other games in addition to standard pinball play could make it a great multi-function machine in a gameroom.
Hopefully, I'll run across one of these TAB digital pinball machines at some point and can try it out. Let me know if you've every tried one – I'm curious how well it works!