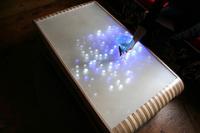 If your coffee table just isn't cutting it as far as interactivity and excitement goes, you can try sprucing it up with some motion-activated LED lighting kits. Video included.
I've written about a coffee table or two on this site that were different or interesting in some way (for example, the pinball coffee table). However, none have quite the "pizzazz" that these LED lighting kits can add.
The kits include a number of large circuit boards which interconnected to create a very large, table-sized board. Each of the sub PCBs has light sensor and a bunch of white LEDs which are controlled in response to the detected motion and light changes. When you place all of the sub-boards together, you end-up with a very large, very sparkly LED starfield that you can actually interact with.
A picture is worth a thousand words, but for this project, a video is worth more. Here is a completed interactive LED coffee table in action:
Pretty cool huh? The effect is better than I was expecting when I just read the textual description. I think building some of these into the to top of a bar would be cool — as people sit and move drinks around, the lighting would create a cool atmosphere.
You can get the LED coffee table kits in two sizes: a 6-panel set for $350 and an 8-panel set for $450. You'll have to do a ton of soldering and figure-out how to mount everything in your coffee table. If you'd prefer not to do that, you can order pre-built LED coffee tables starting at $1,720 and up, depending on your chosen options and shipping.